The emerging ''koko'' distribution strategy; an essential partnership with informal porridge retailers in Ghana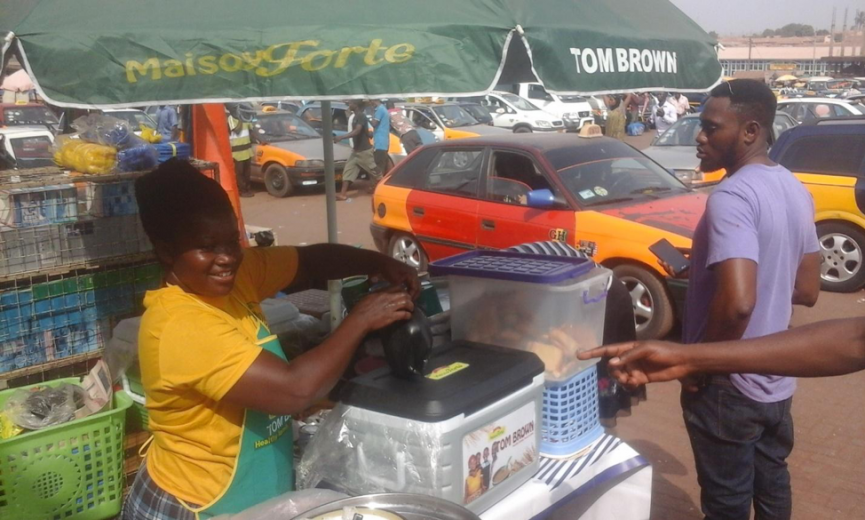 The emerging ''koko'' distribution strategy; an essential partnership with informal porridge retailers in Ghana
Yedent Agro is a group of companies that processes fortified cereal blends in Ghana. Before 2016, Yedent was selling their product through procurement contracts to the Ministry of Health, the Ghana Health Service. Back then, they were selling less than 20 tons/month of their main product, Maisoy Forte, through this channel, which was not profitable enough. In 2016, Yedent partnered with 2SCALE to find opportunities to diversify their market, especially to develop a more active approach towards consumers and create a new distribution network.
The emerging "Koko'' partnership distribution strategy
In 2017, together with 2SCALE, Yedent started with B2C sales by selling their Maisoy Forte brand in the open market. Yedent startd with the distribution via "koko" sellers. "Koko" sellers refer to the local Akan name for porridge sellers in Ghana. "Koko" sellers, often women, prepare the porrdige and sell it directly to the consumer all over Ghana. The porridge is a delicacy for the rich and poor. Its very affordable. Thus, one finds a lot more low incomes patronising. 2SCALE supported Yedent to collect the views from consumers, ''koko'' sellers, tea sellers, distributors and the Yedent sales team and management, during a business model workshop. In addition to the business model workshop, 2SCALE engaged Yedent agents in discussions about the possible outcomes on a local level when the "koko" sellers distribution partnerships is implemented. All the information gathered was validated by consumers through focus group discussions, observations and personal interviews. This research resulted in a marketing and distribution strategy for Yedent ready for implementation.
"Koko'' distribution strategy defined

2SCALE supported Yedent to roll out the marketing and distribution strategy with "Koko" sellers. These ''koko'' sellers can be a key element to create better distribution possibilities. The main reason is that in Ghana, ''koko'' sellers sell existing porridge-type of products in the morning and tea or similar products in the evening, which means they have two touchpoints for sales to consumers per day, this way giving Yedent a significant inroad to BoP consumers all day round! 2SCALE has enabled Yedent Agro and the Koko sellers to benefit from the opportunity gap that existed in their independent operations and which could be filled by developing this partnership. The interesting fact about this innovative route-to-market is that it gives to the ''koko'' sellers more product diversity to offer, through the sales of both cooked Yedent Maisoyforte Tombrown and its sachet forms. This variety will also create more options for the consumer while increasing the income of the seller.
Results of diversifying the market
Yedent Agro is currently running pilots with selected, popular ''koko'' sellers in various parts of Ghana. This emerging partnership between ''koko'' sellers and Yedent Agro is already yielding anticipated results.
I really look forward to working with Yedent for a long time in the sale of their Tombrown. It's not quite long but the patronage tells it all, the product is really good and my sales area appears more catchy to my customers
Mama, Koko Seller in Techiman
For the Koko sellers, this new model shows a great potential and it indicates an overwhelming patronage at the various Koko points used for the pilot. Thus, with the support of 2SCALE, Yedent was able to reach to the very core of the BoP target consumer in its existing territories of distributors covering almost the whole of south Ghana. 2SCALE believes Yedent will be able to achieve more in terms of product reach and its costs will decrease, as Yedent could already increase its sales to over 20 tons/month, which are an average of 1,000 cartons per month.
Source: www.2scale.org